I'm excited to share that Loreena's Gift is on a book blog tour right now.
Various book bloggers from across the country are featuring the book over the next couple weeks.
The tour also involves a giveaway of a signed, print copy of the book.
If you're interested in entering, you can do that here.
What Readers are Saying
Reviews are coming in, and it's been so nice to hear that readers are enjoying the story.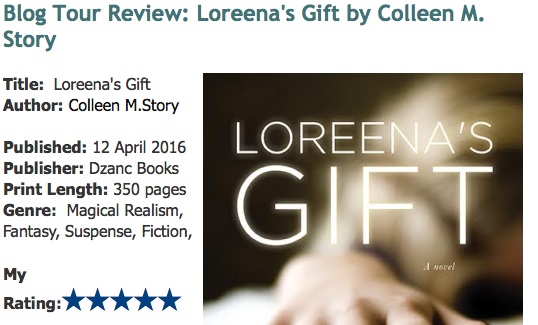 From Bound4Escape:
"What an amazing novel! I had difficulty putting Loreena's Gift down because it was so interesting. I wanted to know what was  going to happen next."
From A Bookaholic Blog:
"When I was invited to join this blog tour, I thought it sounded like an interesting book. Wow, was it ever interesting! I read this 350 page book in two days. This was a book that did not disappoint and was very hard to put down. If this is a debut novel for the author, I look very forward to more of her writings!"
From JBronderBookReviews:
"This book sucked me in and I could turn the pages fast enough to see what was going to happen to Loreena next. I really liked how although Loreena is blind she didn't let that defeat her….I absolutely loved this story and I will be on the lookout for future books from Story."
From Sahar's Blog:
"The pace is non-stop throughout; pages turn without you noticing and, concomitantly, the clock ticks forward and you realise you've been up most of the night. "
I'm grateful for all the reviews and send a hearty "thank you" out to all the readers!
Check out the tour page for more stops along the way.
And if you've read the book, please consider leaving a review on Amazon and/or Goodreads. Authors need YOU to keep producing!
Tags: book review, fantasy, literary fiction, Loreena's Gift, supernatural