I had a wonderful time at the Idaho Author Awards ceremony last week.
Sponsored by Aloha Publishing and the Friesens Corporation, the awards have been going for six years, but this year the reception took place at a new venue.
Past award receptions have been held at the Powerhouse Event Center in downtown Boise, Idaho.
This year, they moved the event to the brand new "JUMP" center, also known as Jack's Urban Meeting Place.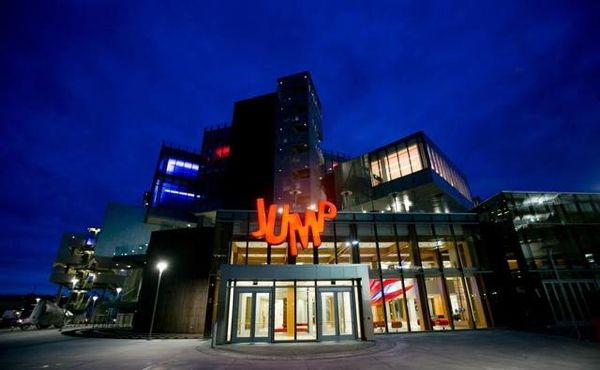 A multi-million dollar project years in the making, JUMP is funded by the J.R. Simplot family, and has been described as part-convention center, part-park, and part-art studio.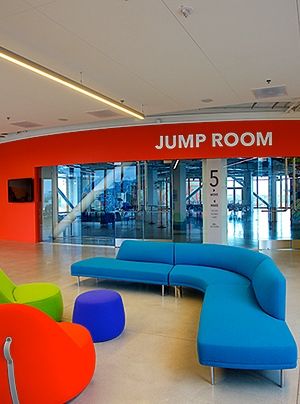 We were in the "Jump" room on the third floor which was beautiful, a grand open space surrounded by floor-length windows.
As you can see from this picture taken just outside the room, the architects used a lot of fun color in their design, so we felt comfortable immediately.
This wasn't your usual stuffy awards event!
The room was filled with round tables which made it easy to reach out and make some new connections.
I was lucky enough to meet Cristen Iris and Jeri Walker—both of whom I "knew" on Twitter but had never met in person. Each was involved in making the event a success, having lended her talents to judging and organization.
I also met a number of other great people, some authors and some who had helped with the contest.
Tim Hewitt, a Friesens representative and the gentleman presenting me the first place fiction award above, smiled so sincerely in every picture! He was the perfect host and had a way of making all award recipients feel deserving.
He also knows his stuff about printing—if you're looking to print your next book with a traditional press, talk to him.
Maryanna Young, founder and CEO of Aloha Publishing, was the power behind the event, and one of those people that works hard to encourage artists and others around her, while taking little credit herself.
She spoke only briefly at the podium, but I got to talk to her during and after the reception, and found her to be a humble and inspiring person.
There were hors d'oeuvres to be had, and of course no one turned those down. We had more chances to visit and network while filling our plates, and that's where I met Lance and Pamela Thompson, both amazing people, writers, and overall talents involved in all facets of the media industry.
The two of them have so many talents and accomplishments between them (including screenwriting for TV and recruiting for Disney) I dare not even get started listing them!
After everyone had finished eating and the food was gone, there were a few short speeches and then they got down to handing out the awards.
Jeri was kind enough to take this picture from where she was sitting when I received mine—I didn't even know she'd done it until she sent it to me later.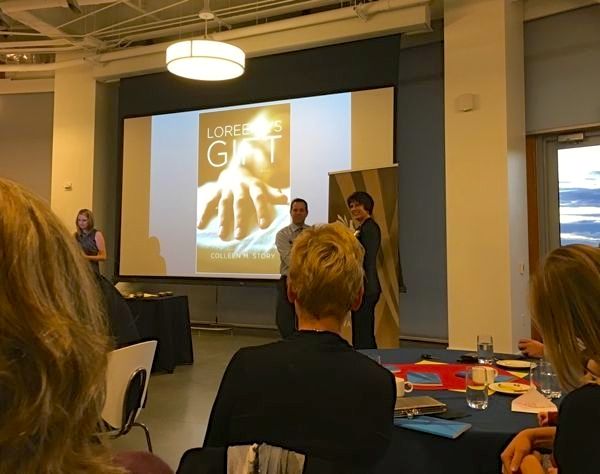 Suffice to say the whole event was a lot of fun. It felt wonderful to receive the recognition for Loreena's Gift, but the best part was meeting the other authors and professionals involved in the book world.
That wasn't the only thing we did in Boise, though.
We also got the chance to look around a bit, and just happened to run across this awesome statue of President Abraham Lincoln in Julia Davis park, just across from the rose garden.
The photographer sent this photo to my younger brother, who promptly responded, "Tell her to ask him to come back and be president."
The night before the awards ceremony, we went to see a film at "The Flicks" downtown.
If you're ever in the area, don't miss out on this little 4-theater gem. They show all the smaller, independent films which I rarely get to see.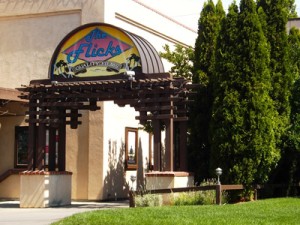 The theater has a cafe instead of a concessions stand, and you can eat before your movie or take your food in with you.
We had a lovely chicken and spinach lasagna, and then went to see "The Dressmaker" starring Kate Winslet. It was quirky and quite brilliant at the same time, and we really enjoyed it.
In case you're wondering who the "we" is in this equation, meet my Mom, Mary (pictured with me below), who made the trip to both attend the awards reception and so we could spend a couple days together.
She lives in a different state than I do, so we take every chance we can get to visit.
Mom was also the photographer, who took most of the pictures in this post except for the ones of the JUMP building and The Flicks theater, and the one Jeri took of me receiving my award.
Photo credit for this last picture goes to Laura Cesare, editor and proofreader for Aloha Publishing. Thanks Laura!