I want to send out a special "thank you" to readers
in the Grand Junction, Colorado area.
I had a book signing for Loreena's Gift (Dzanc Books) there on Saturday, April 30th, from 2-4 p.m. The readers in Grand Junction made it a sell-out!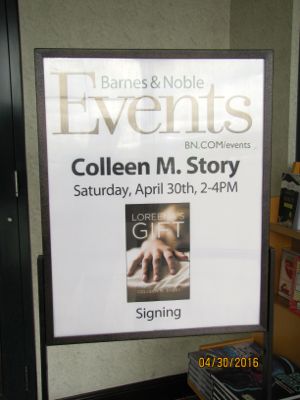 Laura Mettauer, the community relations manager at this location, was so gracious and kind. She had all the posters printed and put up long before I got there, and on the day of the event, had the books out and the table set up well in advance.
She even paid for a frappuccino that I enjoyed during the signing. (A huge "thank you" to the reader who retrieved the drink for me—you know who you are!)
Setting Up the Swag
I had to scramble to get all my swag ready as some readers were already waiting for a signed copy long before the actual event started.
Fortunately, they were patient while I got everything on the table and settled in place. I brought a nice dish-full of candy for customers to enjoy, but this group was disciplined.
Everyone either passed the chocolate by or took only one or two small pieces.
I should have remembered I was in Colorado—the healthiest state in the nation!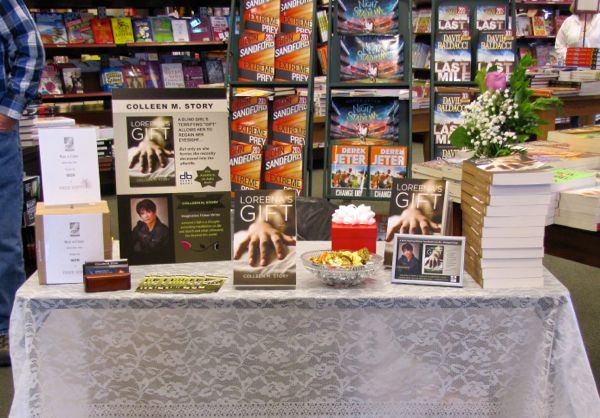 Colorado Readers are Awesome—and So Are Old Friends
The turn out was awesome.
It wasn't long before a line had formed from the table to the front door. The manager had to move people around and down another aisle so other customers could continue to enter the store.
I was afraid at one point people might get tired of waiting but everybody enjoyed chatting—this was a friendly group.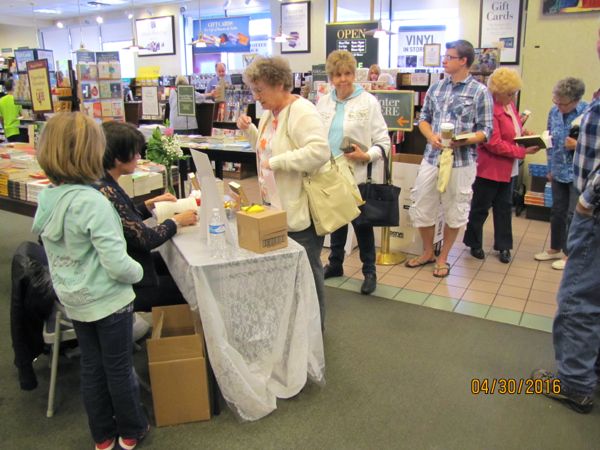 I was so honored that many old friends—people who have been important to me over the years—took their time to come out and support me.
What a pleasure to see teachers, professors, principals, and neighbors that I hadn't seen in forever! I wanted to chat for hours, but couldn't keep other readers waiting.
It was also neat to see people of all ages and backgrounds interested in this book.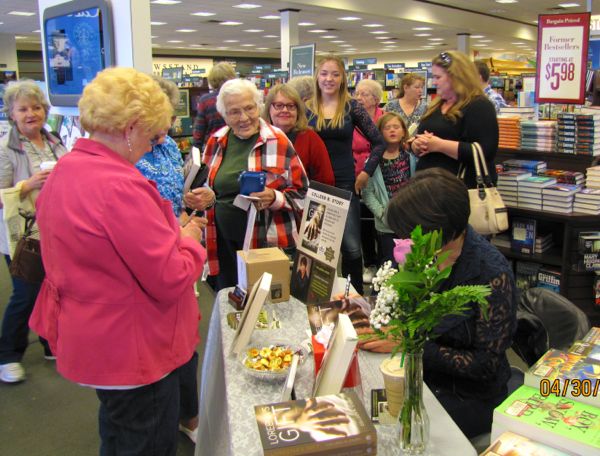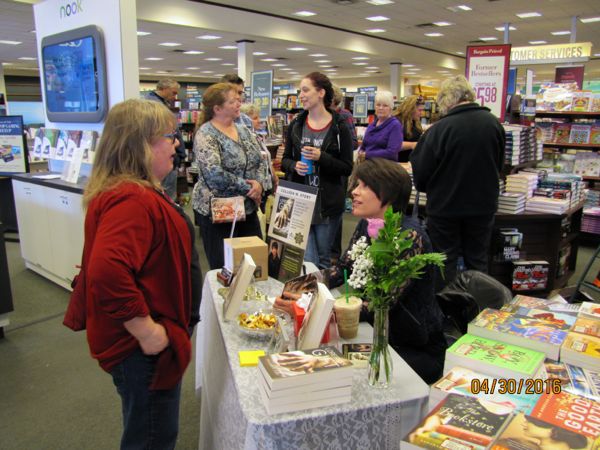 It was equally delightful to meet new people who had heard about the book on the news or in the paper and were simply curious and wanted to give it a try.
I met several new readers—some who even heard about the signing on Twitter—and thank all of them for making the effort to support a new author.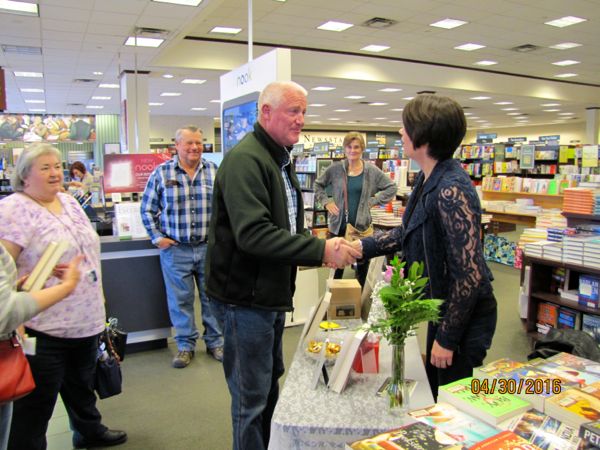 This lovely lady (below) was my English, French, and public speaking teacher in high school. She was the one who gave me the foundation I have as a writer today.
How wonderful it was to see her and tell her that her hard work as an educator had been put to good use!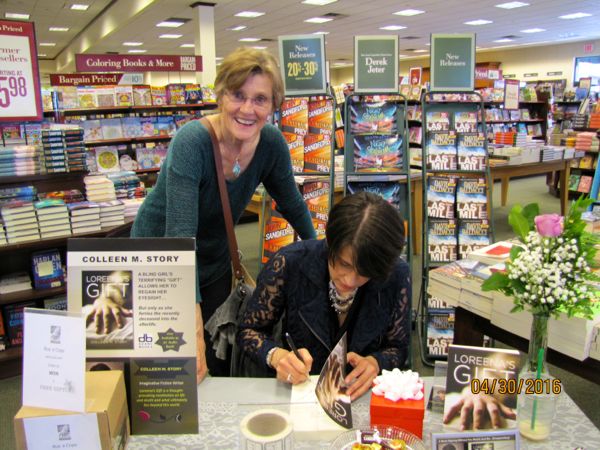 Those who bought a copy of the book were able to enter for a free gift—appropriate, I thought, since the book is called "Loreena's Gift."
But we didn't pick the winner until after the signing was finished.
This nice lady arrived just after I'd sold my last book. I felt badly that I didn't have another to give her, but she promised to either order it online or pick it up from the store when they get their new shipment in.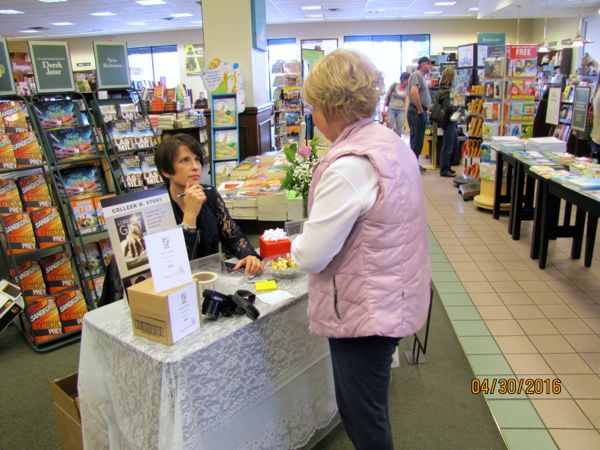 And the Winner Is…
After we were out of books and had put everything away, Laura told me she would be ordering more copies. If you didn't get one, and you'd like one, and you're in the Grand Junction area, Barnes & Noble will have more coming within a few days.
Crystal Books & Gifts, on Main Street in Grand Junction, also had a couple copies available last I checked.
Once everything was wrapped up, we turned our attention to the box holding all the names. We shook, turned, upended, and twisted it to shuffle all the names inside, and then opened it and pulled out one piece of paper.
The winner was Diana Musselman—an amazing music instructor, the principal horn player in the Grand Junction symphony for years, and, as it happens, the lady responsible for my own foundation as a horn player.
I was delighted to present the gift to her! And so thrilled to reconnect at the signing.
I want to extend a huge thank you to everyone who came out, to Laurena Davis of the Daily Sentinel and her lovely article the week before about the book, to Lauren Klenda and her KREX news interview prior to the signing, and to those key people who helped make the signing go off so well—you know who you are.
Community relations manager Laura Mettauer said of the event:
"We enjoyed having you here at Barnes & Noble Grand Junction. You and your fans brought a buzz of exciting energy to the store. In the 10 years I have worked at Barnes & Noble Grand Junction, I remember only 3 book signings that sold out of books. Yours made it four. Congratulations on having such a successful event!"
I hope you all enjoy Loreena's Gift!
Tags: barnes and noble, book signing, literary novel, Loreena's Gift